Check out our tips on how to organise a birthday party – keep organised, and it will pay off in the end!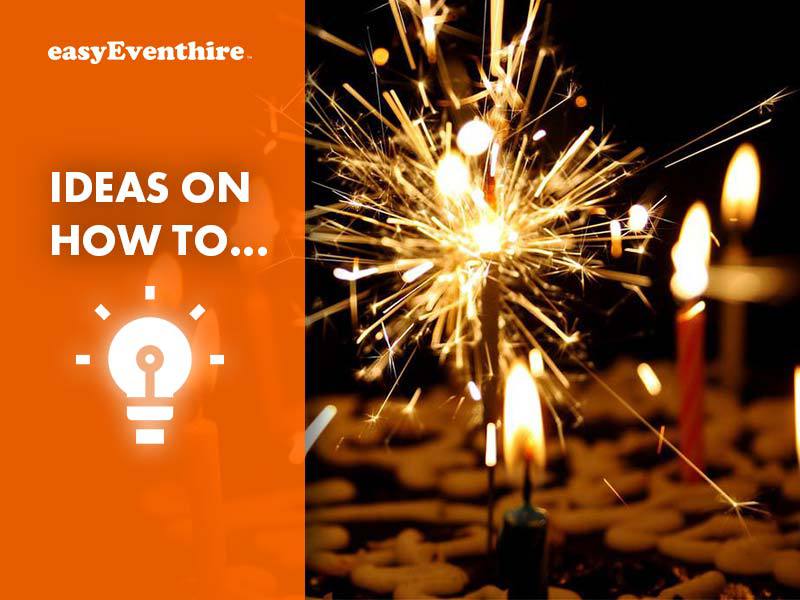 Check out our tips on how to plan a birthday party below, and we're sure that this will save you time, effort and stress. After all, being organized, paying close attention to detail and leaving nothing to chance is the key to turning good events into great events!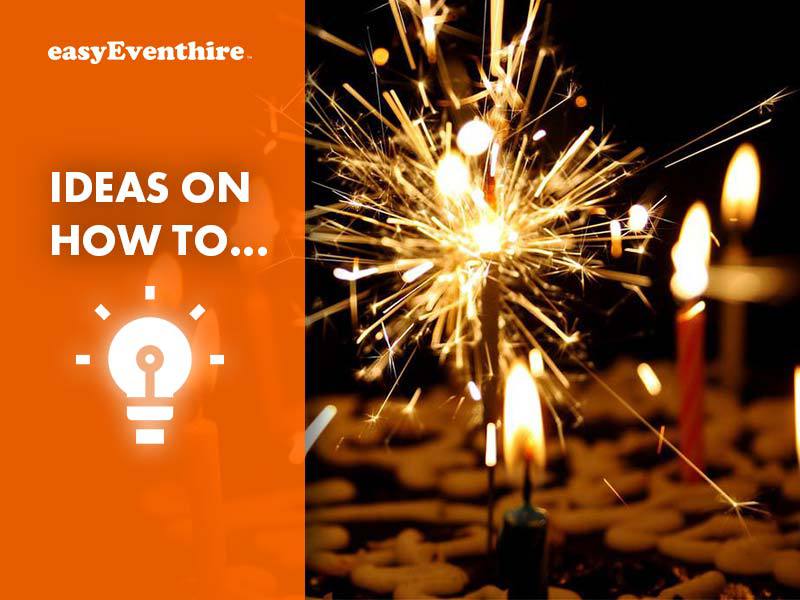 Everyone LOVES a good birthday party, whether this is a kids party or an adult birthday party for a milestone age. These are highly personal affairs, the aim of which is to celebrate with family and friends, often at home, in the back garden, in a local village or community centre or indeed any other venue that is suitable to hold the number of guests you are inviting.
If you are wondering how to plan a birthday party, there's a few key elements that you need to get right. And, for the purposes of this, let's focus on adult birthday parties such as a 40th, 50th, 60th and so on. These are often larger occasions and the need to hire equipment for birthday parties is greater, rather than children's birthday parties that are often held at home.
So, let's take a look….
Who is the party for?
As we've already mentioned, the planning and venue will vary wildly according to whom the birthday party is for. Ultimately, this person should be at the heart of everything you do when you plan a birthday party, whether it's choosing the birthday party venue, the catering, the guest list and so on. Of course, if it's a surprise birthday party, then this is something different altogether!
Decide on a birthday party theme
When you plan a birthday party, why not embrace a theme and encourage your guests to dress up? This always add some fun to proceedings, and is a great ice-breaker for those people who perhaps don't know each other.
Maybe a James Bond 007 theme or Great Gatsby 1920s theme might be appropriate birthday party themes though, again, it very much depends upon the person whose birthday party it is – the internet of course is full of birthday party ideas so spend some time doing some research.
The chances are that you will know this person well and so have a think about what THEY enjoy. You want this party to be all about them, not what YOU like, so when you come to plan a birthday party, plan carefully!
Set a budget, and stick to it!
As with any event, it's easy to get excited and carried away! Of course, it's OK to push the boat out from time to time, especially when you can't do without something, but budget is the one thing that always get pushed and pushed, so don't let it get out of control.
When you plan a birthday party, set a budget and stick to it….with a bit of fudge factor in there for unforeseen eventualities! We know it sounds a bit formal, but you might want to create a spreadsheet for your budget so that every time you book something or spend money, you make a note of it. By doing this, you won't have any major surprises!
Set a date & venue
We've grouped setting the date and organizing the birthday party venue together for when you plan a birthday party, as it's difficult to have one without the other. Most parties and celebratory events happen on a weekend (usually a Saturday night), and of course it would be great if the person's birthday actually falls on a Saturday night – job done!
However, when you plan a birthday party, you'd have to be extremely lucky for this to happen and so usually the birthday party is held on the nearest Saturday to the actual birthday date. Of course, the setting of the date and the venue go hand in hand, as you can't set a date without knowing that the venue where you want to hold the birthday party is available, so these are decisions that are made at the same time.
Typically, Saturday nights are always popular throughout the year and so, as with everything else, try to book as far in advance as possible for your date and venue to avoid disappointment. Other things can wait, these can't.
Have a think about the type of birthday party venue you want to hire. Do you want to hire a 'blank canvas' event space where you can make it your own, or would you perhaps like to hire a function room in a pub or restaurant? There are loads of unique birthday party venues in London and in almost every town and city in the land, and so when you plan a birthday party, just choose what you think is going to be appreciated and enjoyed most.
Send out your invitations
Now that you've decided on your theme, venue and date, it's time to draw up your guest list and get those invitations out! When you plan a birthday party, the golden rule is a simple one: the more notice you can give people about the birthday party, the greater the chance of them being able to attend.
Let's face it, everyone's busy and so it's important to get those invitations out as soon as possible. Of course, times have changed, and you now don't need to have physical invitations – how about setting up a dedicated Facebook or Whatsapp group?
Easier, instant communication and better for the environment! Finally, make sure you put a 'reply by' date – otherwise, replies could drag on and this will make it more difficult to know how to plan, if you don't have definite numbers.
Birthday party catering
Of course, catering for a birthday party can take a load of different forms, from a home-made buffet in a village hall through to a fine dining meal in a private dining room. Suffice to say that whether you're planning a stand-up canapé or finger-food-style catering event or a sit down dinner, this is certainly one of the elements that your guests will remember when you plan a birthday party!
There's numerous professional catering companies across the UK who offer a wide variety of different packages from which you can choose. It may be that the venue where you are holding your birthday party already has commercial catering equipment in-situ which these professional caterers can use.
If not, however, you can always browse the extensive range of catering equipment hire products at easyEventhire, nationwide. This unrivalled range includes everything from turbo ovens and gas burners through to fridges and freezers, serving equipment and food presentation equipment hire, providing you and your catering team with everything they could possibly want in order to provide a catering service that will live long in the memory.
And don't forget the all-important mobile bare hire and dance floor hire – these are essentials of any birthday party or celebratory occasion. Hire today with the experts at easyEventhire!
Don't forget the other essentials!
If you're feeling brave, why not have a go at making the birthday cake yourself or, if not, there's plenty of cake makers who will design and create one for you. Keep it personal and in-keeping with the theme for added effect! And what about a birthday present – do you go down the route of 'needs' or 'wants'? – everyone has their own opinion on this!
And talking about other people, when you plan a birthday party, your guests will probably want to know what gift to bring, so put some thought into this in advance for when you're quizzed! Then, don't forget to buy or hire birthday party decorations, especially if you're responsible for decorating the whole venue – this will take more time than you think!
Enjoy the party!
Finally, it's time to enjoy the fruits of your labour and enjoy the occasion. A chance to let your hair down and join in the party spirit. Of course, the chances are that you'll still have one eye on how the event is going and whether it's running to plan and schedule, and we'll forgive you for this – after all, you don't want things falling over at this late stage.
However, with the tools we've already armed you with in terms of these tips, the process, your budget spreadsheet and these useful ideas, the chances are that there'll be no last minute, unwanted surprises!
Whatever you need when you come to plan a birthday party, you can count on the team here at easyEventhire to provide you with a seamless service from start to finish. If you need event furniture hire, outdoor furniture rental, catering equipment hire, tableware hire and other event equipment hire, we have nationwide distribution centres around the country from where we can help you at affordable prices.
All that remains is for us is to wish the birthday boy or girl a very happy birthday, and we look forward to hearing from you soon!