Click to read more tips and advice about how to plan a wedding!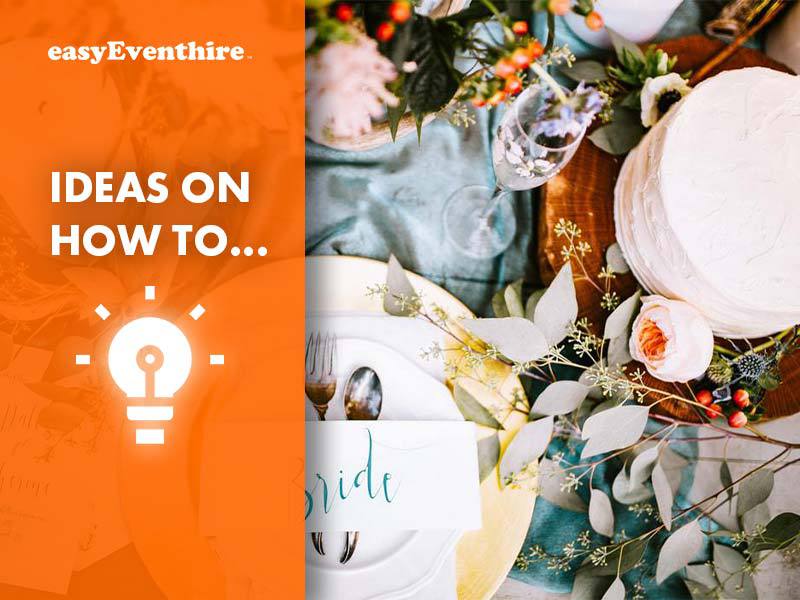 With many brides and grooms starting their wedding planning often years in advance, our guide to how to plan a wedding below might help when it comes to bringing an bit of organisation to things. Of course, the COVID pandemic meant that wedding plans for almost everyone were put on hold for over a year, but as things start to move in the right direction, now's the time to revisit your plans! Our tips on how to plan a wedding are all below!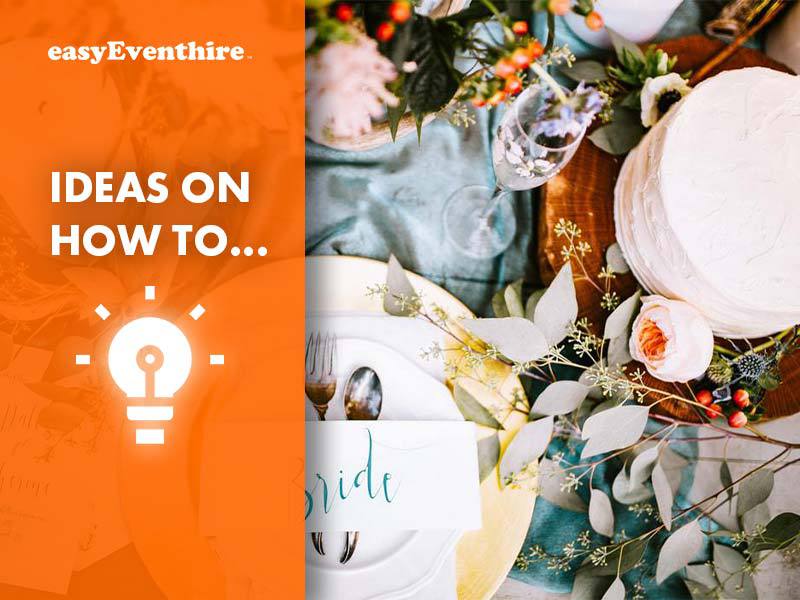 Ultimately, when you plan a wedding, it should always be a pleasurable and exciting experience, not something that turns into a hassle. The key message with planning a successful wedding day is make it your own and, above all, enjoy it!
In this article below, we're looking at traditional white weddings for brides and grooms, and we'll be looking at same sex weddings in a later article. So, when you come to plan a wedding, check out these tips below!
Get inspired!
The world of wedding planning is an exciting one, with a whole host of information, creative ideas and images out there in glossy magazines and wedding sites online. In fact, the whole thing can be a little bit overwhelming. Ultimately, each bride and groom is different, with different wants and desires. What one bride and groom chooses for their special day could vary wildly from the next. when you come to plan a wedding, your visions need to be aligned!
Have a think about if it's a traditional white wedding you want or maybe you're looking for something different and away from the norm. Whichever it is, a great start to when you come to plan a wedding is to take a look online at wedding sites and social media platforms such as Pinterest, for example, and check out what is popular and trending in the world of weddings. Try to narrow it down to a colour scheme or theme as a starter.
Write down what your ideal day looks like
Perhaps one of the most important things you can do in the early throws of wedding planning is to write down what your ideal consists of. How do you picture it? And does what you have in your mind match with up with your partner's vision? Equally as important is to understand what you DON'T want on your special day when you come to plan a wedding.
Unfortunately you can't put 'rain' down on this list, but what you might want to think about is whether you want a church wedding or civil ceremony, for example. Or you might want to think about how you're going to arrive at your wedding venue – will this be a classic wedding car, or a limo, a horse and carriage, or perhaps you don't want to hire a car at all for the wedding and would rather use the budget that you might have spent on transport on a different element of the wedding. A long sit down chat about this is always a good idea – get the coffee on and take your time!
When you plan a wedding, set a budget…and stick to it!
Speaking of budgets, one of the most important things you can do as part of your wedding planning is set a budget and stick to it! You may be have seen wedding shows on TV such as 'Don't tell the bride' on C4 which shows you just how easy it can be to burn through thousands of pounds. Be realistic about what you can spend. Maybe you are funding the wedding yourselves as a couple of perhaps the respective parents are helping out.
Whatever the circumstances when you come to plan a wedding, the last thing you want to do is start wedded life in debt. In reality, it's often the case that the most expensive weddings are not always the best! There's also a saying that 'look after the pennies and the pounds will look after themselves' – this is also worth consideration as it's very easy just to go slightly over budget on an item here and there…and you do this on lots of elements and you find that the total bill adds up to much more than you originally thought!
There's nothing to stop you swapping bits of your budget around, a bit like the example of the transport above. Also, try negotiating at every stage of your booking process – you'll be amazed at how much money you can save, just by asking the question.
Create a checklist
Whether you're an excel fanatic or just like plain old pen and paper, you'll find that creating a checklist will be invaluable to you during the wedding planning process. With some many things to think about and organise, having a tick list will be worth its weight in gold when you come to plan a wedding! We've even seen brides and grooms having a whiteboard on the wall at home in the kitchen or in their home office – then you know it's serious!
Decide on a venue
We were a little bit undecided as to whether the decision on a venue or the setting of the wedding date would come first in our list, but in the end we decided to go with the venue booking. This is because if you are planning a long way in advance, as many brides and grooms often do, then the chances of your chosen date being available is high.
That said, with the COVID pandemic having meant a wipe-out of the wedding market for a year, then the chances are that the best dates will be booked up a long way in advance, much more so than usual. Anyway, when you come to plan a wedding, this is just something to bear in mind.
As for the venue itself, are you looking for a stately home or other iconic venue, a large hotel perhaps which can provide on-site accommodation for your guests, a countryside marquee in the middle of a field, perhaps a tipi or a speciality venue. Whatever your requirements, get on this straight away. And of course you also need to decide upon whether you are going for a church wedding or civil ceremony. If it's a church wedding then you'll need to contact the vicar to talk through the arrangements. You should be aware that church weddings are much more of a formal affair, as we'll come on to later.
As for deciding on venue location when you come to plan a wedding, it's traditional to keep this close to home, but do bear in mind where your family and friends are travelling from – maybe this might influence your decision?
Choose a best man, maids of honour & bridesmaids
One of the most pleasurable parts of your wedding is including your friends and family in the planning and, of course, the big day itself. When you come to plan a wedding, traditionally, the groom selects a best man – usually his oldest and most trusted friend. And yes, you need to choose wisely as this is the guy who'll be giving a speech about your merits (or not!) on your wedding day! Likewise, the bride might want to choose one or several maids of honour who traditionally organise the hen party, get together the night before the wedding and also on the morning of the wedding to help the bride get dressed.
Set the date
Typically, the most popular dates for weddings are Saturdays in June to September, with the obvious reason for this being the weather. That said, the English weather is wholly unreliable and so prepare for every eventuality. We have our fingers crossed for you, but do make sure you have a plan B for if it's raining and you can't do the photos in the grounds of the stately home. When you come to plan a wedding, you'll find that once you've set the date, the countdown is on – it's all becoming very real!
Decide on your guest list
The guest list is another important consideration for your wedding planning. The number of guests you plan to invite will be determined by a number of factors, mainly the size of the venue and also the budget. The price per head at many wedding venues is not cheap!
If you've got a large family – when you plan a wedding – then your hands are tied to a certain extent as the expectation is that they will all be invited. If not, then why not surround yourselves with friends, colleagues and other people who have played an important role in your lives.
Send out 'save the date' cards
Once your guest list is decided, get those save the date cards out in the post as soon as you possibly can. The last thing you want is for half of your guests to be booking their summer holidays before they receive your wedding invitation. Your guest list will have taken a long time to put together and you'll now be able to picture and visualise your special day with your friends and family in the venue that you have chosen, so do everything you possibly can to ensure that they will be there!
Liaise with wedding suppliers…and remember to read the contracts!
When you come to plan a wedding, it's now time to start shopping around and bring together the various elements that you still need to organise. This might be finding a florist, a wedding car company, a dance floor hire and bar company, wedding furniture hire company, buy the wedding rings and so on.
It's important to note when you plan a wedding that you should read the various companies' terms and conditions before parting with your money. What's the deposit refund policy, for instance? The reason this is important is that many brides and grooms had problems during the COVID crisis in getting their deposits refunded. Always check and read the small print – it will be worth your while.
Make a wedding website
Making a website is not to everyone's liking but you can put all the details of your wedding planning, photos from your special day, the honeymoon and much more on here which provides you as a couple with a lasting memory of your special day and beyond. Nowadays, it's easy to make a basic website with lots of free tools online to enable you to do this. Share the link with all your friends and family and they'll also be able to share in your special experience!
Create a gift list
To some, a gift lift might sound a bit clinical but the reality is that it shows guests what they could buy you as a wedding present. Guests will also be expected to get you a gift of some description and so it makes sense to guide them down a particular route, especially if you are planning to set up a new home after you have got married!
Send out invitations – with song requests!
It's time to send out the invitations – and why not creative! There's nothing to say that you need to spend a small fortune on glossy invitations from a supplier, as you could create your own with coloured card and a home printer! This is an opportunity to save money AND personalise things to your heart's content! A nice touch to send out with the invitations is a little card asking people to RSVP along with their song choice of a song they would dance to. Combine all these song choices into a list and give it to the DJ – you'll then know that they'll be people dancing to every tune!
Revisit the venue
A good idea at this point in proceedings is to revisit the wedding venue to start finalising details and to visualise the day itself. It's often the case that everything isn't quite as you remember it layout wise and so this is a great opportunity to tinker with your table seating plan if you need to – maybe you need to hire more, smaller tables or fewer larger tables!
Sort your seating plan
And talking of the seating plan, this is integral to the smooth running of the day! Go for a nice blend of people who already know each other and people who don't. By mixing people up, it avoids any niches or pockets of people at your wedding reception. Let's face it, everyone knows the bride and groom and so they've definitely all got something in common!
Personalise your wedding – DIY!
We've already mentioned that the invitations are a great way to personalise your wedding but how about personalising your table favours. And maybe even your table name cards. If you're into walking in the hills, then why not name your tables after your favourite mountains? Or if you like holidaying abroad, then you could make each table name a holiday destination that you have visited together as a couple.
Attend your wedding banns being read in church
We mentioned earlier in this article that church weddings are typically more formal affairs than civil ceremonies and to many, this makes the day even more special. There are certain elements that need to come together for a church wedding to happen. Traditionally, though less so today, the bride should reside in the church's parish. Also the bride and groom to be should be present for at least three Sundays in the three months of the lead up to the wedding day for the reading of the marriage banns – the announcement of the intention to marry.
Enjoy the stag & hen parties…but not too much!
Of course, by this point, it's all systems go, and the stag and hen party are always there to be enjoyed. Whether you choose to have it local to home or go abroad for a weekend, this is traditionally the last chance to enjoy the single life before you get married. Stag and hen parties used to take place the night before the wedding though sense seems to have prevailed on this over time, with these now typically taking place around a fortnight before the big day.
Enjoy the day!
When the big day finally arrives, the simple message is, enjoy it! You'll be surrounded by friends and family, all of whom will want to congratulate you and have a chat. You'll find that time absolutely race by and the day will be over before you know it, so soak it up, revel in the attention and enjoy every moment!
Thank everyone
And, at the end of it all, remember to thank all your guests, whether this at the end of the wedding reception or in the days afterwards. It's the presence of friends and family who all come together to witness and share in your celebration that make weddings so special.
Hopefully, these tips will help you when you come to plan a wedding. Remember to enjoy it and work with companies, venues and suppliers that you trust. By doing so, you'll cut out any headaches that could make life problematic, leaving you to enjoy the planning process as you should!