Read our 20 tips on how to plan an outdoor event – it will be worth it!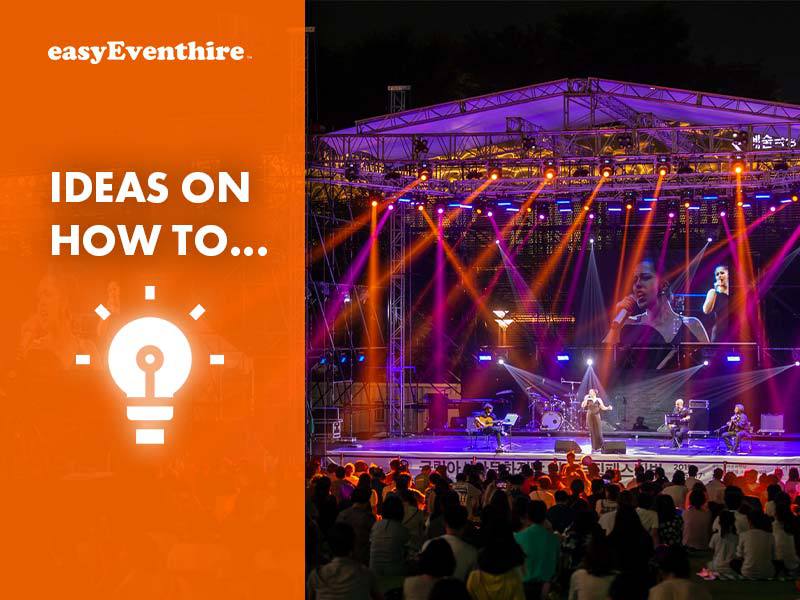 Outdoor events are regular fixtures of the UK events calendar. Of course, we're talking about 'in normal times' as this certainly wasn't the case in 2020 as a result of the COVID-19 pandemic, and it remains to be seen at the time of writing this what the impact for 2021 will be and how many outdoor events will return, and on what scale.
In the meantime, however, we hope that this 'how to plan an outdoor event' will be of some use to you if you are starting out on the event organizing path or are new to the industry. We've got 20 pointers below which will help when you come to plan an outdoor event!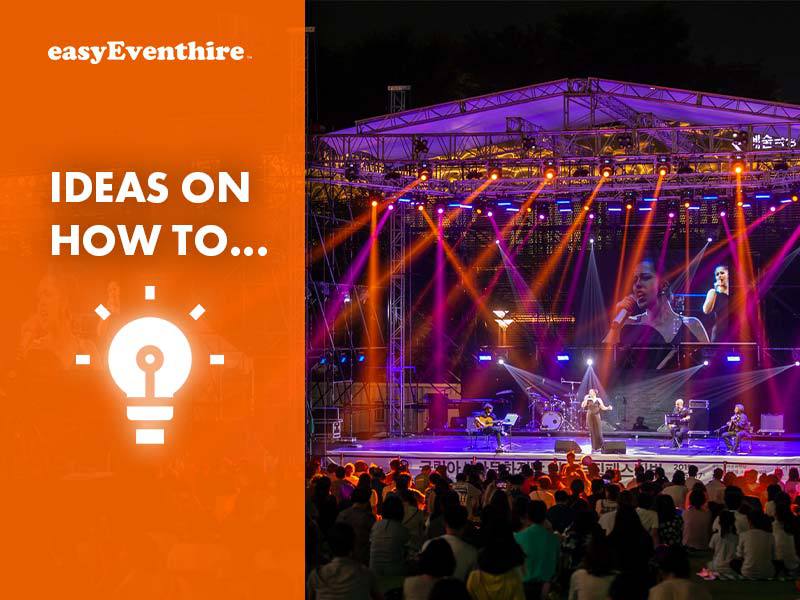 Think!
What type of event is it? What time of year? Where? Are there other similar events to yours taking place at the same time of year? Or what about other non-related events taking place in the same vicinity? These are all types of questions that you should be asking yourself when you come to plan an outdoor event.
Whether you're planning to start a music festival or lay on a series of outdoor theatre shows, it's important to know your market. There's a huge number of factors that will contribute to the overall success of your event with the weather being one of them. Therefore, target your audience and get advance ticket sales rather than on-the-day, as rain can often reduce visitor numbers by up to 60% if you're banking on these impulse ticket sales. Anyway, we'll look at ticket sales in more detail later on…
Organize well in advance – you can never plan too much!
In this sense, it's a bit like a wedding in that events such as large outdoor events are planned months and sometimes years in advance. When you come to plan an outdoor event, you really can't have TOO much time to plan – after all, things never quite go according to how you originally envisaged them!
Try to visualize how things will look, how the event will take shape and the various steps you need to do and in what order – this guide of how to plan an outdoor event will help! Also, write a list, whether this is the traditional pen and paper or electronically on your phone's to-do task manager. However, you do it, keep a list and keep on track with your budget.
Permits & ordinances
Depending upon the outdoor event location that you have chosen, it's almost inevitable that there will be a variety of different permits and ordinances that you need to secure whether this is to do with noise, operating licences, H&S, fire safety, bar licences and so on. When you come to plan an outdoor event, the local council will be able to help with this, as with the local police with whom you'll need to liaise with regard to traffic and access routes, especially for the larger events. Music festivals, for instance, often take place in countryside settings where the road network is sometimes questionable and so this is an important consideration when you come to plan an outdoor event.
Entertainment
For a music festival, for instance, when you come to plan an outdoor event, you need to secure your headline acts early on. The more high profile the act, the better your ticket sales will be and the better the chances of corporate sponsorship for your event. Music-wise, the UK is rich with musical talent, many of whom are available for the festival circuit. And this comes back to, of course, setting the right date for the event as the last thing you want is for the date of your event to be clashing with another similar event.
Sponsorship
Sponsorship is a key element of any outdoor event, providing organizations with the opportunity to be associated with your event. Quite how you structure your sponsorship deals is very much down to you. Are you looking for an overall title sponsor for your event who will pay you a fee to put their name across the whole event? Or are you looking for smaller companies to sponsor different zones, stages or areas of your event?
And maybe their participation doesn't include a monetary fee payable to you at all – perhaps you could negotiate some supply deals where organizations supply their services free of charge to you in return for some exposure and association with your event. This might be to do with ticketing, security, communications, mobile bars and so on. The choice is yours!
Ticket sales
You're now at the point of selling tickets for your event, and you want to make a big splash, especially if this is the first time you are holding your event. Get active on social media and maybe have an early booker discount for tickets to encourage people to buy sooner rather than later. If you've got a marketing team, get them engaging with PR with local newspapers, publications, trade press and radio stations, for instance, to get the word out there.
When you come to plan an outdoor event, you can either sell tickets via your own website or use Ticketmaster or other ticket hubs to sell your tickets in return for a small commission. There really is no limit in terms of the amount of streams available to you when it comes to marketing nowadays, so make sure you've got the best team in place, and got all angles covered!
Map it out!
Get the layout of your site drawn up to scale. This way, you know what you're dealing with and can plan accordingly. In any case, you'll need this as part of your discussions with the local council and police. Look at access points, local park and ride facilities and if it's an outdoor event that takes place over the course of a weekend, for example, allocate space for camping. By having a defined plan such as this which you can share amongst all the various stakeholders in the project, everyone knows what is being aimed for, and it certainly makes discussions and negotiations easier!
Power, toilets & communications
There are some fundamentals when you come to plan an outdoor event that you need to get in place, and need to get in place ASAP such as power, toilets and your communications such as Wi-Fi, for instance. This is because, as you'll see, the next step is getting your temporary planning office onto site, so you can be present to co-ordinate the entire effort and gauge progress on a daily basis. Rest assured that if you're trying to plan and organize a major outdoor event from a distance, it's an almost impossible job, especially as the date of the event draws closer.
Set up your temporary planning office
This is the hub from which the whole event is co-ordinated. For most outdoor events with no existing office facilities on site, this temporary event planning office normally takes the form of a temporary cabin where 4 or 5 people can sit at desks to carry out their work. Have a think about the furniture hire you'll need for your office, for instance, such as desks and office chairs along with PCs, printers, desk phones and so on. And a word of advice, if it's a summer event, could we also recommend desk fans and water cooler dispensers!
Decide on contractors & arrange a site meeting
If you're an experienced event professional, the chances are that you'll already be familiar with suppliers in the industry when it comes to toilet hire, staging hire, furniture hire, equipment hire, mobile bar rental and much more, and so get into dialogue with these contractors and tell them what you're doing. If you don't have much experience, then ask around – the best companies will have a reputation for providing exemplary service when it comes to equipment rental, and they'll have a good reputation within the industry.
A great way to see these contractors face-to-face is to organize contractors meeting on site – this way, you can get them all together in one room and brief them as to the plans. It's always useful to offer a Q&A session at this point as they will have specific questions relating to their own part of the plan.
Engage with the local community
It's really important that you engage with the local community as especially if this is the first year that you're putting on the event, there is likely to be some disruption to their daily lives whether this to do with noise, traffic or something else. Get them on side. Hold a community Q&A in the local village hall, for instance. Why not offer local residents discounted tickets to come and enjoy the event? The better you get on with local residents, the fewer problems you're likely to encounter – it's a simple equation!
Sanitation
So, things are now coming together, and it's time to look ahead in detail at the event itself. Sanitation is a big factor to consider, especially with the larger events and festivals. How are you going to provide toilet facilities in the quantities you need? And how about showering facilities and so on, especially if visitors are camping overnight. Of course, there are equipment hire companies out there who can take care of this for you, so get your negotiating hat on, especially if you need in large numbers!
Scheduling
When you come to plan an outdoor event, get your schedule in place for your acts and entertainment. Get this advertised on social media to maintain the groundswell of excitement – your visitors will then be able to plan what they're going to see in advance of arriving at your outdoor event. Encourage people to like and share posts about your upcoming event on social media – get the buzz going!
Pest control
Especially with larger events, and those in the countryside, pest control is an important consideration. With large quantities of people comes large quantities of food waste and general rubbish which, in turn, attracts rodents. You need to have the right conversations with the right people, well in advance, to ensure that this doesn't become an unwanted problem.
Marshals & volunteers
Every large scale outdoor event needs an army of volunteers doing a variety of associated jobs, whether this is at the admissions gate, bar staff, tidying the site up and so on. Advertise for these volunteers in local publications, and have a think about what you can offer them. Of course, you won't be paying them for their time on site as such, but can you offer them discounted tickets for family members, meals and drinks on site, and so on?
Queue management
Often overlooked when you come to plan an outdoor event, queue management is an important consideration. Bear in mind that you'll be potentially expecting many people arriving at your event within a small amount of time. How can you manage this effectively?
Firstly, how about hiring Tensabarriers to help with your queue management – these are free-standing barriers with retractable belts, the type you might see at an airport. These help to guide visitors where you want them to go. And, whilst they are queueing, you should provide some hand sanitizer dispensers to ensure that people are sanitizing their hands upon arrival – this is here to stay!
Plan for the rain!
Regardless of whether you've planned your event for the middle of August, the chances are that the great British weather will not behave itself! So, plan for the rain. The best case scenario is that it will be 'scorchio' so if you plan for rain, things can only be better! For outdoor concerts and theatres, for instance, where you need to hire outdoor chairs in large quantities, for instance, deluxe folding chairs from easyEventhire are perfect for this scenario as the seats and backs of the chairs are perforated to allow water to seep through. When you come to plan an outdoor event, considerations about the weather are super-critical!
Enjoy it!
Again, often overlooked is that the fact that once the event day arrives, it's important that you enjoy it! All the months of organization and pressure finally come together, and it can be highly rewarding. By now, you're probably onto plan Z, but the fact that you've planned for this eventuality means that you're sailing along quite nicely. Enjoy your moment – you deserve it!
The clean-up operation
Once the event is over, then the clean-up operation begins. This can be a huge task, especially if it's been raining, and you're in the middle of the countryside. This is where your army of volunteers comes into its own.
At the same time, there's also plenty of products and companies who are striving to ensure that throwaway items such as disposable cups, for instance, are being phased out. The range of reusable cups, for example, at easyEventhire provides a reusable and recyclable solution and also encourages users to either return their used cup to the bar or place it in collection bins at the exit points of the event site. These are just a few examples of how working with the right contractors can make your life easier in the lead up to, during and after your event.
Say your thank-yous!
When the clean-up operation is complete, and you're all packed away and the site is as you found it, never forget to say your thank-yous. Say thanks to all your contacts – this might be the person at the council who was co-ordinating your permits and licences, the police liaison officer, the contractors who fulfilled all their requirements or simply to the local community. It's a small word which goes a long way – and more important than ever to say if you're planning a return the following year! Never forget that people deal with people, so make it count and leave on a good footing.
Hopefully you'll have found this 'how to plan an outdoor event' guide of some use as you embark on your event production career, and don't forget that the team here at easyEventhire is always here to help you in whatever way we can.
easyEventhire has a wealth of experience in supplying outdoor events nationwide, large or small, and we always welcome the opportunity to get involved early on, share our knowledge and experience with you, and help you plan an outdoor event. In short, we very much look forward to working with you on your upcoming event or occasion!