How about checking out these tips on how to plan exhibitions, and why not choose easyEventhire as your preferred exhibition furniture hire supplier!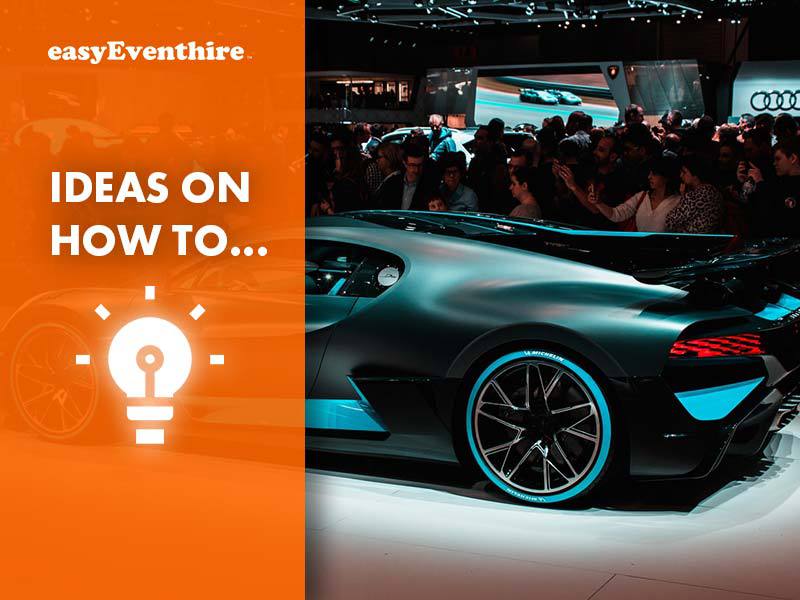 According to Eventbrite, professional trade shows and exhibitions in the UK attract around 13 million visitors each year, with many also from overseas. The UK is rich with fantastic exhibition venues such as London ExCeL and Olympia, the NEC in Birmingham and Event City in Manchester, to name just a few.
When you come to plan exhibitions, these are typically huge expanses of 'space' which can be rented by exhibition organizers, and you only have to be there in the 2-3 days of stand building to be in awe of how this blank canvas becomes a vibrant and energetic hive for industry networking.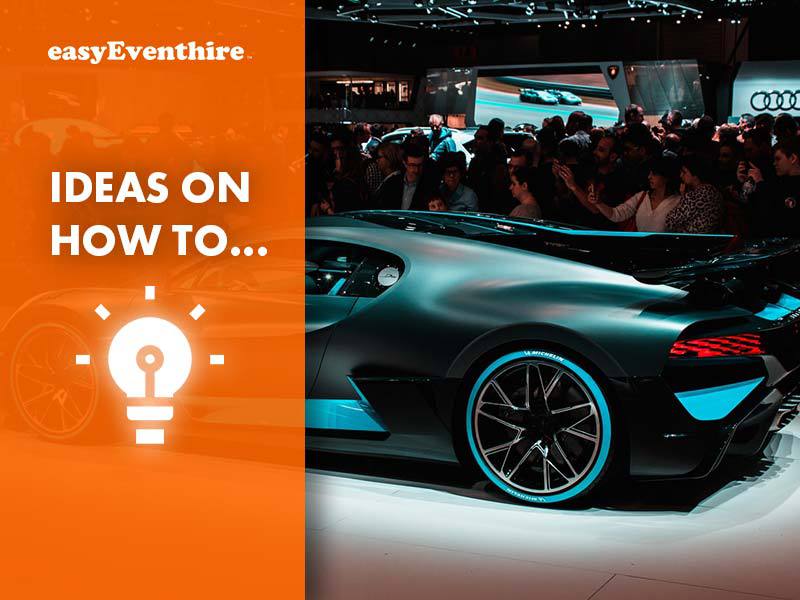 Exhibitions are wonderful networking opportunities for industry professionals such as experts, retailers, wholesalers, influencers, media and other people, coming together under one roof, usually once a year. The longer you've been in the industry, the more faces you know! And if you're just starting out, what a chance to meet influential people in your marketplace.
Whether you're looking for new suppliers, wanting to catch up with the latest trends and news and simply wanting to check out what your competitors are up to, the value of face-to-face meetings at exhibitions should never be underestimated. The COVID-19 pandemic led to the postponement and cancellation of many exhibitions during 2020 and the effect of this was very much felt within industries across all sectors of business. So, let's keep our fingers crossed for a swift return at some point in 2021.
If you're new to the game of planning exhibitions, then the information below might help. The world of exhibition equipment hire is diverse and mind-boggling. Assuming that your first exhibition is a success, then the chances are that you'll be doing it at least once a year moving forward, so suffice to say that it will get easier as time goes on! In any case, our exhibition planning template below should help…
Decide on the industry or market
If you're an experienced pro in the world of planning exhibitions, then think back to the time when your exhibition first started. Your exhibition will no doubt have grown from humble beginnings to what it is today. It's true to say that some of today's best exhibitions and trade shows were a 'bit of a punt' from the organizers.
That's not to say that they went out on a complete limb, but, more so, they identified a specific industry or market niche which currently didn't have an associated exhibition. If you take a step back and try to think of an industry or product today that doesn't have an exhibition running, you'll do well! The vast majority of industries have a connected exhibition, whether this is to do with running and exercise, construction, cars, gifts & homeware and even concrete!
So, if you're wanting to break into the exhibition world and create a new exhibition plan or trade show, you're either going into battle with some established shows or – perhaps more wisely – look for new industries. Recent examples of this might be the Vaper Show or IT & technology trade shows – new markets that have evolved in recent years which savvy exhibition professionals have launched successful exhibitions on the back of.
Choose your venue & date wisely
When you plan exhibitions, the question of where to hold your trade show or exhibition, and what date to hold it on, might seem obvious, but it's critical that you get this right. We've put these elements together, as you can't really determine your venue without having a date in mind, and you can't set a date without firstly confirming availability of your preferred venue.
Let's look at the venue first. You've decided on your concept and need somewhere to hold your show. Think about it geographically first. Do you want to hold your exhibition in London? After all, London is the centre of exhibitions in the UK. Or maybe you might want to look at the NEC in the Midlands or Event City in Manchester. Much depends upon your target audience….and cost.
London's exhibition centres are likely to be the most expensive, but you can potentially attract more exhibitors and visitors. Are the industry professionals you are trying to attract mainly UK based or would many come from overseas? If they are coming from internationally, somewhere like Birmingham's NEC would be a good option – central England so accessible for all, well priced, and with an international airport and good transport links. All these are worthy considerations.
And then you need to work out when you plan exhibitions is how big you think your exhibition will be and how much floor space you'll be able to sell to exhibitors. Exhibitions work on the basis that the exhibition organizer 'rents' the exhibition hall space from the venue and then, in turn, sells the space to companies who want to exhibit at the show.
The more floor space you can sell, the more profitable the exhibition will be! If this is your first exhibition, then choose a relatively small venue – the NEC, for instance, has lots of different sized halls. Then, as your exhibition grows over time, you can take on multiple halls, according to the size of the show. Flexibility is important here and so try to build a great working relationship with the venue!
As for the date, check the UK exhibition calendar for an available slot when you plan exhibitions. The main 'seasons' for exhibitions are January to March and September to November, mainly due to the fact that you can be nice and warm indoors! You can be sure that there will be other exhibitions up and running on the same weekday or weekend that you want to hold your exhibition, but as long as they are not in similar industries, you should be fine.
Create your website & floor plan when you plan exhibitions
So, you've now got your concept, your venue and your date, so it's really time to go to work! After all, you're now committed to a large outlay for the venue space, so you'll be under pressure to sell the floor space to companies within the industry to come and exhibit their products and services at your show.
The first thing you need to do when you plan exhibitions is get a website up and running or, if you've already got one, get it updated with all the latest information. There is also software that you can build into your website to show the exhibition centre floor plan in real time. This really helps your sales team when speaking with clients as they can identify the locations that are available inside the venue.
When you come to plan exhibitions, you'll be able to charge premium rates for the exhibition booths that are next to the main traffic flows around the exhibition hall…and these are normally the ones that are sold first. You can split the floor space up into small booths and large booths, 'shell' schemes and space-only stands. A shell scheme booth is usually 3m square, sectioned off with temporary partition. A space-only stand is exactly that – usually larger but just space and so for larger product displays such as cars and so on, this is ideal.
Never underestimate the benefits of showing that your floor space is selling quickly, and also ensure that you get the names of the companies that have already signed up to your event on the website exhibitor list – there's always the fear of missing out! After all, if you're a company in that space and can see your competitors attending, then you'll want to be there!
Get social media & your contacts working for you when you plan exhibitions!
Now you've got your website up and running, you need to start driving people to it. Start advertising your exhibition on social media and in the relevant industry news publications. The more buzz you can create around your exhibition, the more interest there will be! Use your existing industry contacts to drive some traffic and interest – whatever contacts you can make will be worthwhile!
Use an experienced sales team
It's always a good idea to have a designated sales team who have experience in selling exhibition stands to companies. Entice companies to attend with early booker discounts, for instance. The earlier you can get companies to book space at your exhibition, the fewer sleepless nights you'll have!
Liaise with contractors
Of course, the cost of putting on an exhibition is not just in the venue itself. There's also the additional cost for exhibition equipment hire that you'll need. You might need furniture hire for your organizers offices, or staging for your demo areas, maybe poseur tables and stools for your VIP lounges and so on. When you come to plan exhibitions, you might also need to include entertainment, AV companies, display showcase companies for exhibition stands, and so on.
The reality is that ALL of these contractors will be needed in some form or another, but the great news is that as an exhibition organizer, you can also make some additional money from this exhibition equipment hire.
Work with a preferred supplier for elements such as furniture, for instance. As the organizer, you will need furniture for your own spaces, and your exhibitors will need furniture hire for their exhibition stands. You could provide your preferred supplier for exhibition stand equipment with your exhibitor list and get them to sell furniture to your exhibitors, and perhaps in return for this get them to kit out your particular spaces free of charge. Or, it might be that you could get the exhibition furniture hire company to provide you with preferential rates on poseur tables, stools, chairs, tables, showcases and other exhibition equipment hire, and you sell these items to your exhibitors for a small margin.
When you come to plan exhibitions, these are just two examples of how you could work with an exhibition hire equipment preferred supplier, but in reality the world is your oyster. It goes without saying, however, that if you're going down the preferred supplier for exhibition stand equipment hire route, then you need to choose wisely. You might have already worked with them for years on other projects, for example – in which case, you know you can trust them and that they are going to provide you with the exemplary service levels you need to help make your exhibition the complete success you want it to be!
Define zoned areas & set a timetable of events
When you come to plan exhibitions, your floor plan is an ever-evolving beast, and so it makes sense to include certain key areas for you as the organizer in and around your exhibition venue. Examples of these include demonstration areas, keynote speakers and lecture areas, VIP lounges and also a sales lounge – what better way to get company representatives who are on site at this year's exhibition to sign up 12 months ahead for next year!
We've already told you how you could get these areas furnished with exhibition equipment hire at low cost (or even free!) and so these valuable areas will definitely be worthwhile. If you are laying on free demos, lectures and demos, don't forget to produce a timetable of events and circulate it in advance so that your visitors can plan their day.
Set up your organizer's office
Two or three days in advance of the start of the show (depending upon the size), you'll need to get your organizers office sorted. This office gets incredibly busy the day before the start of the show and so you need to make sure it is well furnished for both your staff and so that it is effective and efficient for when you have a constant stream of exhibitors asking you questions and wanting information.
When you come to plan exhibitions, companies like easyEventhire, for instance, are able to provide you with reception desks, office desks and chairs, cupboards, cabinets and much more for your organizer's office, at great prices.
Keep safe!
We're all now aware of the need to keep our hands clean and so what better way to do this than by hiring hand sanitizer dispensers for the entrance area of your exhibition hall so that people can sanitize their hands upon arrival. Then, why not place some hand sanitizer dispensers around your exhibition hall at key traffic areas, and even on each individual exhibition stand. Washing and sanitizing our hands regularly is here to stay!
Enjoy the show!
It's often easier said than done but when the exhibition starts, it's important to enjoy it. Be visible on the exhibition floor, visiting the various exhibition stands to ensure that everyone is happy with their exhibition equipment hire and everything else.
And don't forget, you can always improve things, so don't be afraid to ask for some constructive criticism in terms of how you can make next year's exhibition even better. Make sure you employ a professional photographer and videographer to capture everything about the exhibition – you can use the photos and videos for marketing purposes and even live-streaming from the event on social media channels, for instance.
Also, if you've invested some money in producing some branded merchandise for your exhibition, now's the time to make sure it is selling – and you could also give some away as prizes, for example.
Ensure media coverage post-exhibition
After the exhibition, it's just as important to ensure that you get coverage about your event as it was in the run-up to it. Industry professionals will be interested to hear about it and see your photos and videos, and make sure you get some positive testimonials from satisfied exhibitors. This all helps to drive awareness and bookings for the following year!
Start planning for next year!
Whilst you might want to give yourself a well-deserved break for a couple of weeks to recover from your successful exhibition, the reality is that you can never have enough planning time for next year. The best exhibitions are those that have been meticulously planned from start to finish. Get rested, get energized and get prepared to launch back into your planning…and make next year's exhibition even better!
Hopefully our top tips about how to plan exhibitions have been useful. If you are on the look-out for a preferred exhibition equipment hire London company (or nationwide), then you need look no further than easyEventhire. Our team has a wealth of experience and expertise when it comes to supplying exhibition venues across the UK, and we're always happy to speak to exhibition organizers to see what arrangement is going to be mutually beneficial when it comes to exhibition furniture rental and much more.
Let's talk today and create stunning exhibitions together! We very much look forward to hearing from you soon.