Read all about how we think you can plan a big wedding on a small budget with the experts here at easyEventhire.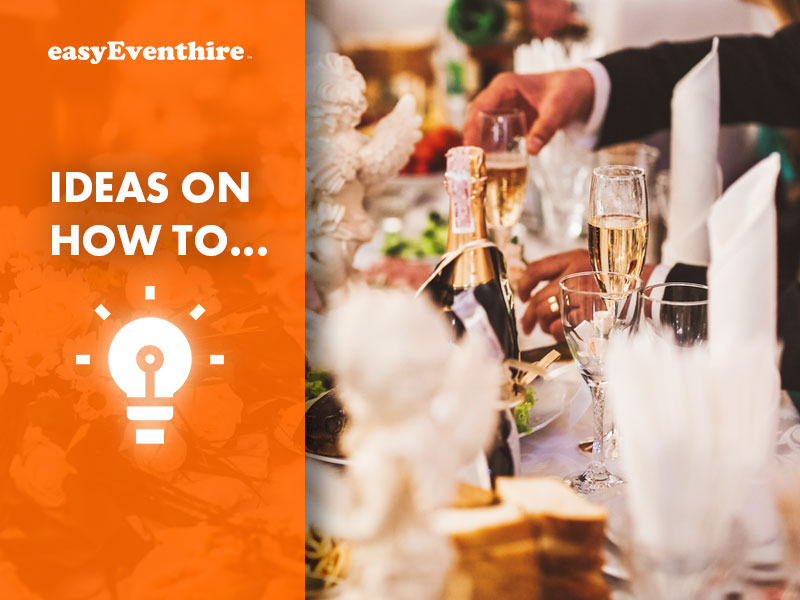 Your wedding day should be the happiest day of your life. Your special day is the culmination of months, if not years, of detailed planning and lead up, from the excitement of deciding on your guest list and invitations, through to the choosing of THE wedding dress and wedding rings, the customary stag and hen parties and the actual ceremony itself, whether it is a church or a registry office, depending upon your preference.
The main thing is that for this one day, you are the centre of attention, surrounded by family members and loved ones. One of the most important pieces of advice is to ENJOY the big wedding day as it passes incredibly quickly.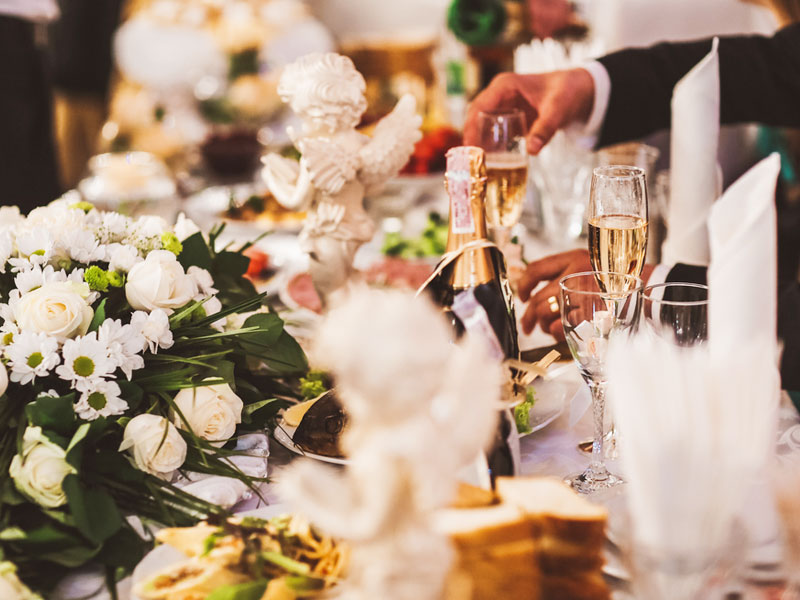 By their very nature and what is involved in the whole process, weddings can be an expensive business. If you think about it, the process begins way back when you got engaged, with the custom of buying a diamond engagement ring.
Again, custom dictates that the groom-to-be should spend the equivalent of two month's salary on the engagement ring, though we'd be saying to spend what you can afford. And often, it's not the actual monetary value of what something is worth that is important, more so that it's personal and unique to the couple in question.
And that's just the engagement ring! As you move through the process, if you don't keep a check on things, costs can escalate, from the price of the wedding cake you are having made for your big day, the bridesmaid dresses and, of course, wedding dresses. And let's not forget the price of the wedding venue, the catering, the cars, DJ and many other elements of a wedding.
Of course, the overall cost of a wedding very much depends upon the size, scale and location, but the typical UK white wedding costs around £25-30k, with huge variations around this. Many Asian weddings, for instance, have huge numbers of guests attending, often 500+, dictated by custom and tradition.
As with any event, attention to detail in your wedding planning is key! One of the most fundamental things you can do is set a budget for each element of your wedding. Something like Excel on your computer is good for this, as you can set it up to keep track of how much you spend and how much you've got left.
Whilst we're all guilty of impulse buying from time to time, don't be tempted too much to splash out on those designer shoes when you get the same without the label for a fraction of the price. And that leads us nicely onto some money-saving tips to cut costs when it comes to your wedding – after all, your wedding doesn't have to cost the earth! There's nothing wrong with a tight budget, you just need to get a bit creative, so let's look at how to plan a wedding on a budget.
Ask!
First and foremost, why not benefit from the skills, knowledge and contacts for your immediate family and friends, who are sure to be able to help you with certain elements of your wedding. Maybe someone in your circle of friends is a hair and make-up artist, perhaps someone has just brought a new car and they could take the bride and her father to the church, or maybe someone is in the jewellery trade and so can help on that front.
OK, you're not expecting any handouts, but hopefully more 'mates-rates' than the prices you would find in the high street. What about someone who loves arts and crafts who would be happy to design and create your wedding invitations? Or maybe someone who is a bit of an amateur photographer who would be happy to take some formal and ambient shots at your wedding. And how about getting a member of your family to make the wedding cake?
This is an incredibly personal touch and something that they would no doubt love to do – and who's to say that your wedding cake has to be a traditional 3 tiered cake? Why not base it on cupcakes or brownies or something else that is unique and personal to you as a couple – it will also be a real talking point amongst your guests! These are just some of the wedding ideas where you could save money in your quest towards a low budget wedding.
Figure out who is coming
Again, traditionally, the guest list at a wedding is all-encompassing, with distant relatives – often that you didn't know you had – all in attendance. Have a think about what is important to you as a couple. Maybe you want your wedding reception to be more of a party with friends who have supported you over the years and who are sure to be there for you in the future.
It means fewer numbers and, at the same time, lower cost, as you won't be paying the additional price per head at your venue, for instance. Also, if you're a generous soul who always looks to help others in everyday life, now is the time to call in a few favours, whatever these may be!
Go online!
The internet is a fabulous resource for finding information and doing your research, and it's also great for price comparisons and actually buying things, with products for weddings no exception. How about sourcing little table favours from online, or maybe even having your invitations designed and printed online. You might even be really bold and buy your wedding dress online – depending upon how important it is that your dress is brand new, there could be some fantastic offers out there for 'worn-once' wedding dresses.
However, try to leave your shopping online until the last minute – the chances are that there will be delays along the way with shipping, for instance, or worst case, when your wedding dress arrives it will need some adjustments.
Don't go designer
We've already mentioned the example of shoes which you can pick up at a fraction of the price. The same can be said if you are looking for jewellery for the bride, the best man and the bridesmaids. It doesn't have to be made in white gold or platinum with diamonds – the quality of costume jewellery today which is available in most high street clothes shops is fantastic….again available at a fraction of the price.
And if you're having a wedding website so that your guests can generously buy you a wedding gift, choose some affordable items which you'll probably get all of, rather than more expensive items that you'll receive fewer of! Also, why use fresh flowers when the quality of luxury silk flowers today is superb – in fact, we'd say it's pretty much impossible to distinguish between the two!
Negotiate!
And finally, something that no one particularly enjoys doing, but something that will certainly pay off on your spreadsheet bottom line.  Yes, you are pulling together all the elements of your wedding but don't forget that it's a competitive marketplace out there. Wedding venues, for example, are all competing for your business, and so don't just accept the first price they come up with, and if this is still too much for you, why not check out village halls and other venues where you could then hire furniture such as tables and chairs along with catering equipment and tableware to kit it out as your own bespoke wedding venue! 
A leading hire company such as easyEventhire, for instance, is perfectly placed to be able to offer this service and much more for you. The simple message here is "look after the pennies and the pounds will look after themselves". Weddings on a budget need tight control!
Ultimately, your wedding day is all about you, so whilst price shouldn't be the overriding determining factor for everything, it is still important. What we would say is that the more unique, personal touches you can incorporate into your big day, the more affordable it is likely to be. Planning a wedding on a small budget is not easy, but notice the word affordable wedding, not cheap wedding – there is a big difference. As we said at the beginning, your wedding day is a day to be enjoyed.
Furthermore, the whole wedding planning process should be a joyous experience and never a chore. Always have a bit of a back-up contingency plan up your sleeve for when things don't quite go to plan. Don't get stressed – it's amazing how things always come together and working with expert suppliers such as easyEventhire certainly helps you along the way. Put your faith in the hands of specialists such as ourselves who know their trade and have worked with many brides and grooms before.
When all is said and done, however, you manage to create your wedding on a budget, assuming all your friends and family are there to support you, it is sure to be an amazing occasion, so many congratulations to you from the team here at easyEventhire!